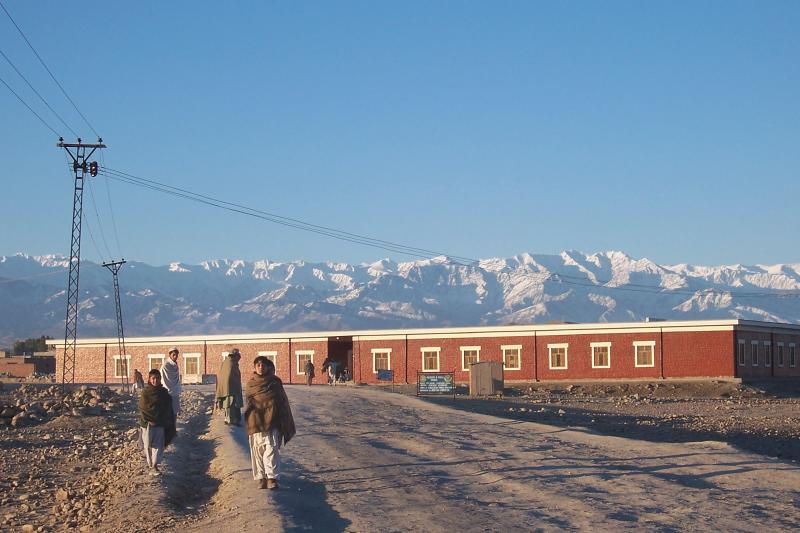 Lessons for life
Sports, polio vaccination part of school in Afghanistan
For 14 years, a school outside Jalalabad, Afghanistan, has played an important part in the lives of thousands of children — girls as well as boys. Founded by the Rotary Club of La Jolla Golden Triangle, California, the school was initially built to serve Afghan war refugee families returning from Pakistan; before it opened, classes had been held in two UNICEF tents, one for boys and one for girls.
Today, more than 6,200 students in first through 12th grades — 3,600 boys and 2,600 girls, who are educated separately — are enrolled at the school. In 2004, club members met with the governor of Nangarhar province, who provided the land for building. The club went on to raise $240,000 in two phases to build classrooms, a library, and a multipurpose room.
Several years ago, when the Rotarians learned that girls at the school weren't participating in sports, they hired a young Afghan woman named Shughla to oversee a volleyball and table tennis program.
Shughla (who asked that we use only her first name for her safety) later turned her attention to a polio awareness campaign for girls ages six to 13. She teaches in the school's large multipurpose room with the support of Afghan health experts and the members of the Afghanistan PolioPlus Committee, who provide Rotary banners, refreshments, and other materials.
"Learning about polio eradication, vaccination, and prevention should be a priority for girls because they will be mothers," Shughla says. "If at such a young age they learn about the illness in detail, then in the future they can keep their children protected from this dangerous disease." Male teachers have presented polio education workshops to hundreds of their students as well.
The girls in Shughla's classes learn about the importance of routine immunizations and working with vaccination teams in their community. And the education doesn't end in the classroom: Students share their knowledge about polio prevention with classmates, friends, and family.
"We are taking responsibility to help and support the PolioPlus Committee because this is our social duty," says Shughla. "We educate people about polio eradication so that they can stay healthy and make sure their kids grow up free from polio."
— Anne Stein
• Read more stories in The Rotarian