Peace and climate change take center stage in Melbourne
Nobel Peace Prize laureate, child climate change activist, and Rotary Peace Fellows explore the intersection of environmental protection and peace
By Etelka Lehoczky
A Nobel Peace Prize laureate and a 10-year-old environmental activist inspired participants at the Rotary International Convention in Melbourne, Australia, about how they can build more peaceful societies and combat climate change.
As convention attendees continued to explore Melbourne and enjoy events planned by local Rotary members, they also heard from speakers who have already made an impact in areas that are priorities for Rotary, including promoting peace, protecting the environment, and eradicating polio.
Leymah Gbowee, a Liberian peace activist, social worker, and women's rights advocate, shared how the dream of a future without war taught her a new understanding of peace.
"Peace is not just the absence of war, but the presence of conditions that dignify all of us," said Gbowee, who lived in a refugee camp and worked as a counselor for child soldiers during more than a decade of civil war in Liberia. "We cannot boast of peaceful societies while there are unfulfilled dreams stemming from a lack of opportunities."
"Many regions need essential social services so all — men, women, boys, and girls — can feel a sense of belonging and validation," she continued. "That, I believe, is the Rotary dream — serving humanity and ensuring that all feel a sense of purpose."
Gbowee said her dream of a better world is what propelled her to start the Women of Liberia Mass Action for Peace, a campaign that helped bring about the end of the civil war and led her to become one of the 2011 Nobel Peace Prize laureates.
"While we all have dreams we wish to fulfill, each dream is tied to the next person's. Like the rainbow, our dreams are the radiance of hope we want to see in our world."
She urged participants to "make our dream of a peaceful and safe world a reality."
During other speeches and in smaller sessions, attendees learned how the issues of peace and climate change are interwoven. Nakeeyat Dramani Sam, a 10-year-old climate activist and poet who is a youth ambassador for the Climate Vulnerable Forum, read an original poem that brought thunderous applause.
Her poem, she said, highlights "the multiplication of extreme climate phenomena being experienced in rapid succession around the globe, such as land degradation, droughts, and typhoons. This poem, this discourse, this story, is asking a question: Can we survive this accelerated climate change?"
She also led the audience in a chant of "When is now?"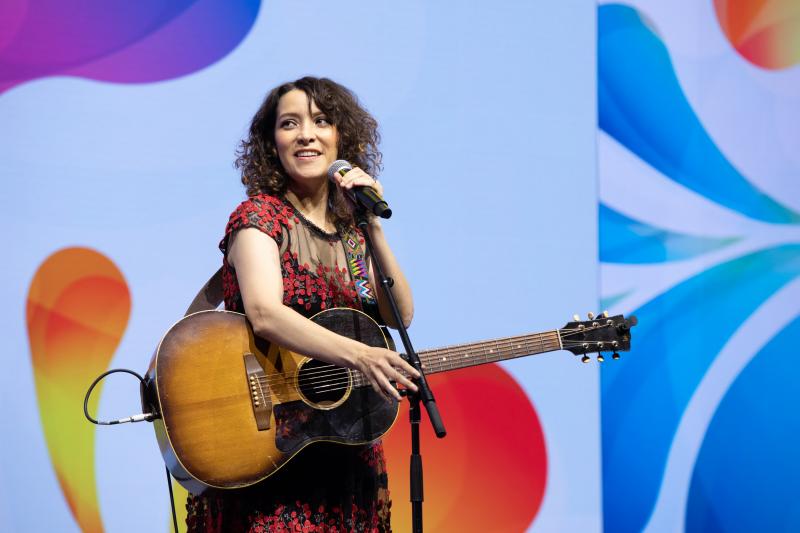 At a breakout session, Rotary Peace Fellows discussed their efforts to build peace in a world beset by environmental stress. Krissta Kirschenheiter, a 2021-22 peace fellow at the University of Queensland, talked about deciding to study peacebuilding after a typhoon devastated the Mariana Islands, where she grew up.
"While people want to help and there's a lot of ways we can help, you need to really ask the local community … to understand how to address" a crisis, she said. "I thought there would be a need for me to bring attention to the fact that the Pacific is dealing with these matters. That's exactly why I became a peace fellow. I wanted to learn more about how to address some of these issues we're seeing with climate change."
At the Peace Park in the House of Friendship, people wrote messages of peace on paper cranes and tied them to tree cutouts, creating vibrant figures with every color of the rainbow.
Eliminating the barriers to ending polio
Other speakers addressed Rotary's progress toward ending polio and the necessity of combating misinformation and eliminating other barriers to eradication.
"In my work, I have heard people saying terrible lies about the polio vaccine, such as, 'This is an international conspiracy,' and 'This vaccine causes infertility in male children,'" said Sana Ullah, a photographer who is a senior program officer at the National Geographic Society. "But I have also witnessed a father sobbing while looking at his son, who was just confirmed as a polio victim. This father … refused to get his son vaccinated because a cleric spread bad information about vaccines. Now his child will have to suffer with lifelong disability."
Shahzad Baig, national coordinator of the Pakistan Polio Eradication Programme, described how the initiative has deployed teams of motorcyclists to reach nomadic children in the mountainous terrain on the border between Pakistan and Afghanistan. "The Rotarian spirit of Service Above Self lives on in the everyday work that happens in Pakistan," he said.
30 May 2023